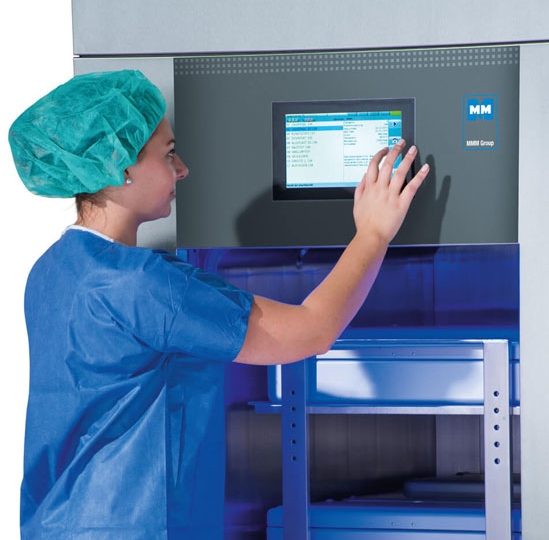 MMM Group new steam sterilizer Selectomat®PL – Compact Line
MMM has been operating worldwide as one of the leading system providers in the service of health since 1954.
With a full portfolio of products and services pertaining to sterilization and disinfection systems for hospitals, scientific institutes, laboratories and the pharmaceutical industry, MMM has positioned itself as a crucial quality driver and innovator on the German and international markets.
A total of 1100 employees apply their expertise and dedication to the mission of the MMM.
MMM is more than just a manufacturer it implements complete, end-to-end solutions.
Compact, space-saving steam sterilizer from 2 to 12 STU for the quick and reliable sterilization of instruments, utensils, laundry, plastic and complicated MIC instruments as well as other medical products in healthcare facilities such as hospitals, clinics and industrial suppliers of sterile goods with customer-specific equipment variations.
Capacity:
160 / 314 / 453 / 610 / 883 (L)
One- and two-door version
Advantages:
Maximum width of only 995 mm
Vertical door movement, steam operated door seals with long service life for optimal process safety
Electrically heated, integrated clean steam generator with various power levels depending on the chamber size with automatic blow-down
All pipes, fittings and valves in contact with process steam are made of stainless steel
Pneumatically driven steam valves
Colour-coded pipe insulation
Polished chamber surface Ra 1.25 μm (Standard)
Modern engineering and sturdy construction ensure high reliability
Industrial PLC control system by B&R
Smart HMI with16:9 colour touch-screen: Loading side 10'', Unloading side 7''
No lateral service access required as service access is from the front
Separate steam feeding of chamber and jacket
Interface to tracking and tracing system (EcoSoft)
Wide variety of pre-adjusted standard programs
LED chamber illumination
Low-noise and water saving two-step vacuum system
All machine components meet the highest safety standards
Hygienic, easy-to-clean design – both outside and inside
---
Click here to view our brochure