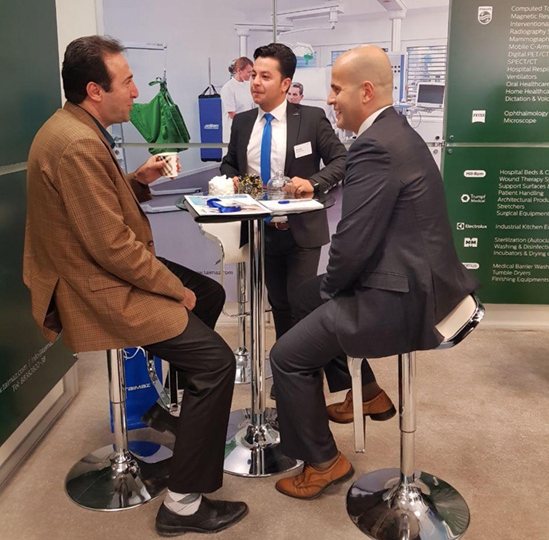 4th Specialized Congress for Hospital Build & Facility Management was held in 10-11 December 2017 by attempt of Iran university of medical science and national health charity community.
TAIMAZ Co. attended this Congress (4th specialized congress and 1st international congress for hospital built and facility management) as the authorized partner of Philips Healthcare (Imaging Systems, Nuclear Medicine, Respiratory Care, Home Healthcare Solution, Clinical Informatics, Speech Processing Solution, Oral Healthcare Solution), Zeiss (ophthalmology and optometry microscopy), Dameca (anaesthesia machine), Philips Respironics, Hill-Rom (Progressa™ bed system, hospital beds & care beds, wound therapy & mattresses, patient handing), Trumpf medical (Architectural products stretchers, surgical equipment), Electrolux (Industrial kitchen equipment), MMM (Sterilization, washing & disinfection, incubators & drying ovens) and Primus (Medical barrier washer extractors, tumble dryers, finishing equipment)   in the field of sales and service.
---
Xtreme in innovation.
That's what Primus® stands for. In fact, we've been focused on providing innovative solutions for more than a century. Founded in 1911, we got our start as a manufacturer of household washing and dishwashing machines — and now part of Alliance Laundry Systems (ALS) – the global leader – since 2014, we're the world's leading manufacturers of commercial laundry machines including high-spinning freestanding washers, rigid mounted washers, hygienic barrier washers, tumble-dryers and ironers. Our full spectrum of laundry equipment provides high quality and reliability for on-premises laundry environments, such as hotels, restaurants, hospitals and nursing homes, along with laundromats, multi-housing and commercial laundries. And with technology designed to be user-friendly as well as eco-friendly, we continuously deliver solutions that bring you more value for your money.